Founder
Ravindra Nath Zaidu - Founder & Principal Consultant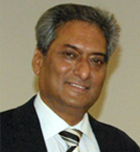 Ravi is an Engineer by education and has extensive and successful experience in leadership positions encompassing sales, marketing and P&L responsibility. He has served top notch organizations like SAIL, L&T, Cosmo Films, Gulf Oil Corp. and ITW India Ltd., for over 34 years in India and abroad in senior management positions.
He has impressive record of top line and profit improvements in industrial and automotive products. Has driven growth of institutional business, OEM and retail sales with expansion of channel partners and deep geographical coverage. He has successfully turned around businesses with significant subsequent growth in both B2B and B2C areas. Built excellent business relationships with business leaders across a large cross-section of industries in every region of India. In each of his roles he has built and developed strong business teams and channel partners.
During the last decades, his work has enabled him to interact and do business with a vast variety of industries in both manufacturing and service sectors, encompassing very large to SMB's, in almost every part of India. After his successful stint in Corporate world Ravi has emerged as:
A leadership Expert, Inspiring Speaker, and a Change Agent.
An experienced & learned Executive Coach
He is an Assessor for Business Excellence Award (EFQM Model) instituted by CII
A Certified Trainer in Balanced Scorecard.